You're excited to attend AMCP 2020. And we can't wait for you to join us in Houston!
---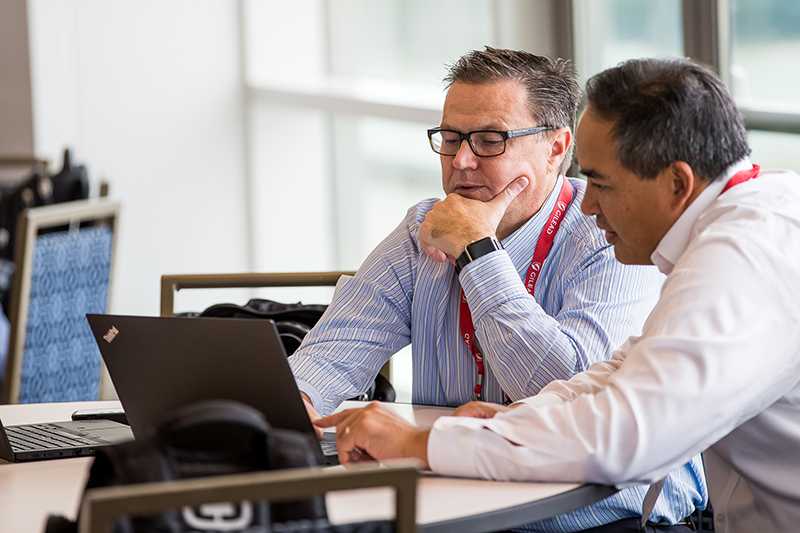 ---
Before you register, you likely need to convince your boss. Attending a conference requires financial resources and time away from the office. You need to illustrate that your organization will get a return on its investment and that you're the right person to invest in.
We've got you covered. Use these tools to build your business case and demonstrate the tangible benefits of attending AMCP 2020:
Benefits
Letter to your supervisor
Post-conference follow-up
Benefits
Everyone has different objectives for attending a conference like AMCP 2020. Select from these examples — or create your own objectives — that best support your organization's mission and sharpen your competitive edge:
Learn – Hear from thought leaders, experts, and peers on the latest findings in managed care pharmacy, best practices to integrate into your own work, and the latest regulatory and legislative activities.
Grow – Tap your professional connections, old and new, for new business leads and competitive intelligence.
Network – Grow your professional relationships with managed care colleagues and decision makers. Take the pulse of what's happening in the field.
Volunteer – Give back to AMCP and your profession by volunteering at the meeting, which is another great way to meet other attendees and build your professional network.
Letter to your Supervisor
Dear [Supervisor's Name],
I would like to attend AMCP 2020 from April 21–24 in Houston.
AMCP 2020 is where managed care pharmacy professionals from across the nation gather to discuss the current state of the industry and define its future — it's an essential resource for professional education and networking.
AMCP 2020 is a rare opportunity for managed care pharmacists, physicians, nurses, health plan administrators, and other managed care professionals to learn together about new developments and practices in our field. This learning comes at a crucial time as we work to implement challenging health care reforms and find ways of providing more services with fewer resources. In addition, this conference is attended by leaders in managed care pharmacy from across the country and the networking opportunities are invaluable.
Every year, AMCP draws more than 4,000 attendees to its spring conference, which offers continuing education sessions in a wide range of health care topics relevant to our work at [insert organization], including formulary management, legislative and regulatory activities, business trends, value-based care, specialty pharmacy, and managed care research.
Professionally, I stand to benefit greatly from attending sessions that focus on [list topics related to your responsibilities]. After reviewing the AMCP 2020 educational content, I've identified topics that will allow me to gain important knowledge and skills related to our goals [insert organization goals]. [Insert sample of sessions you plan to attend]. I will share what I learned with our team and organization to move us forward.
The conference also features an expo hall where companies, consulting firms, and other vendors representing the pharmaceutical, biotechnology, and specialty industry will display information on their latest products and services. This is an invaluable opportunity to network and foster important relationships face-to-face. In addition, the expo hall features a prestigious poster presentation, with top scientists in our field displaying their latest research.
For these reasons and more, I am seeking approval for the registration fee and travel expenses to the conference and estimate total costs to be [insert estimated costs]. This estimate assumes I register by February 14 to receive the early bird discounted rate.
Thank you for your time and consideration. I'm confident you'll agree this opportunity to develop professionally and gain knowledge will directly help [name of organization] and make my attendance at AMCP 2020 a wise investment.
If I can provide additional information about AMCP 2020, please let me know. I look forward to your decision.
Sincerely,
[Insert your name]
Download the Letter (MS Word File)
Visit the registration information page to calculate expenses. For the best rate, become an AMCP member and register before the advance deadline, March 13. You can join or renew though AMCP 2020 registration process.
Visit the housing information page for hotel options.
Post-conference Follow-up
Congratulations, you're attending AMCP 2020! Show your boss they made the right decision and follow up with them after the conference to report your experience. Here are suggestions on how to follow up with your supervisor and document the value of participating in AMCP 2020:
Write a short description of sessions you attended, including what you learned and how it directly applies to your organization.
Recommend how to apply what you learned into practice at your organization.
Document your AMCP leadership involvement (e.g. committee meetings you attended, and poster presentations you observed).
Note client interactions, both formal and informal, and suggest follow-up correspondence.
Write down competitive intelligence you gained.
Write a memo summarizing the conference and submit it to your supervisor.
Schedule a lunch and learn with your team and other stakeholders to share your AMCP 2020 experience.